Summer Nights at Busch Gardens Tampa Bay has been reimagined for 2017, with a new theme: Party Louder, Play Later. With that theme, the focus this summer is enjoying the park and its attractions into the evening, and having fun dancing, eating, and drinking in three new party zones. There's also the brand new ice show Turn It Up! for guests to enjoy.
One of the biggest draws of Summer Nights is the extended hours. Busch Gardens Tampa is scheduled to remain open until 11 p.m. on Fridays and Saturdays, and 9 p.m. the rest of the week. This means guests have up to 13 hours to enjoy the park – including the world class roller coasters, several shows, and expansive animal habitats like the sprawling African Serengeti. Riding a coaster at anytime is always fun, but riding one at sunset or in the dark is a whole new experience.
---
Party Zones
New this year are the three Party Zones, which each feature live entertainment and kiosks serving up special food & beverage options not available anywhere else in the park. Those food & beverage items are available to purchase individually, or guests can buy a sampler card for 8 items from the booths or select items from other locations at the park. The 8 sampler card is $34.99 + tax. Pass Member discounts apply on the sampler card and individual items at each booth.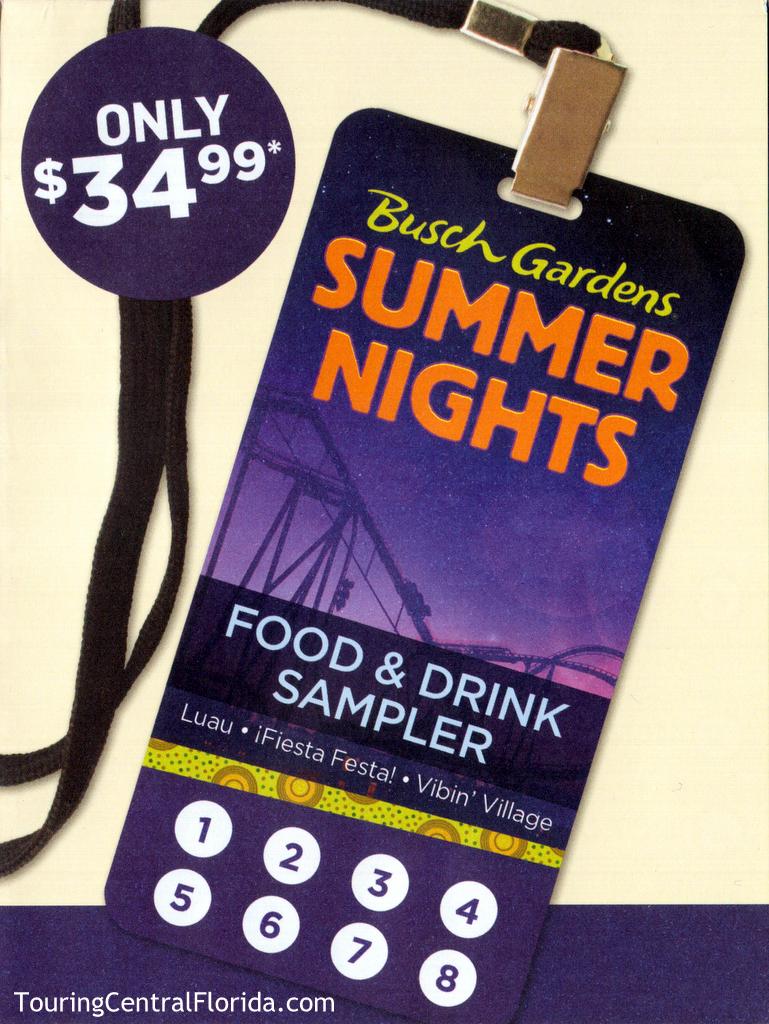 Booths are scheduled to open around noon each day, with entertainment starting after 3 p.m. Entertainment and service at the booths may be suspended during inclement weather.
Click on the map below for a closer look: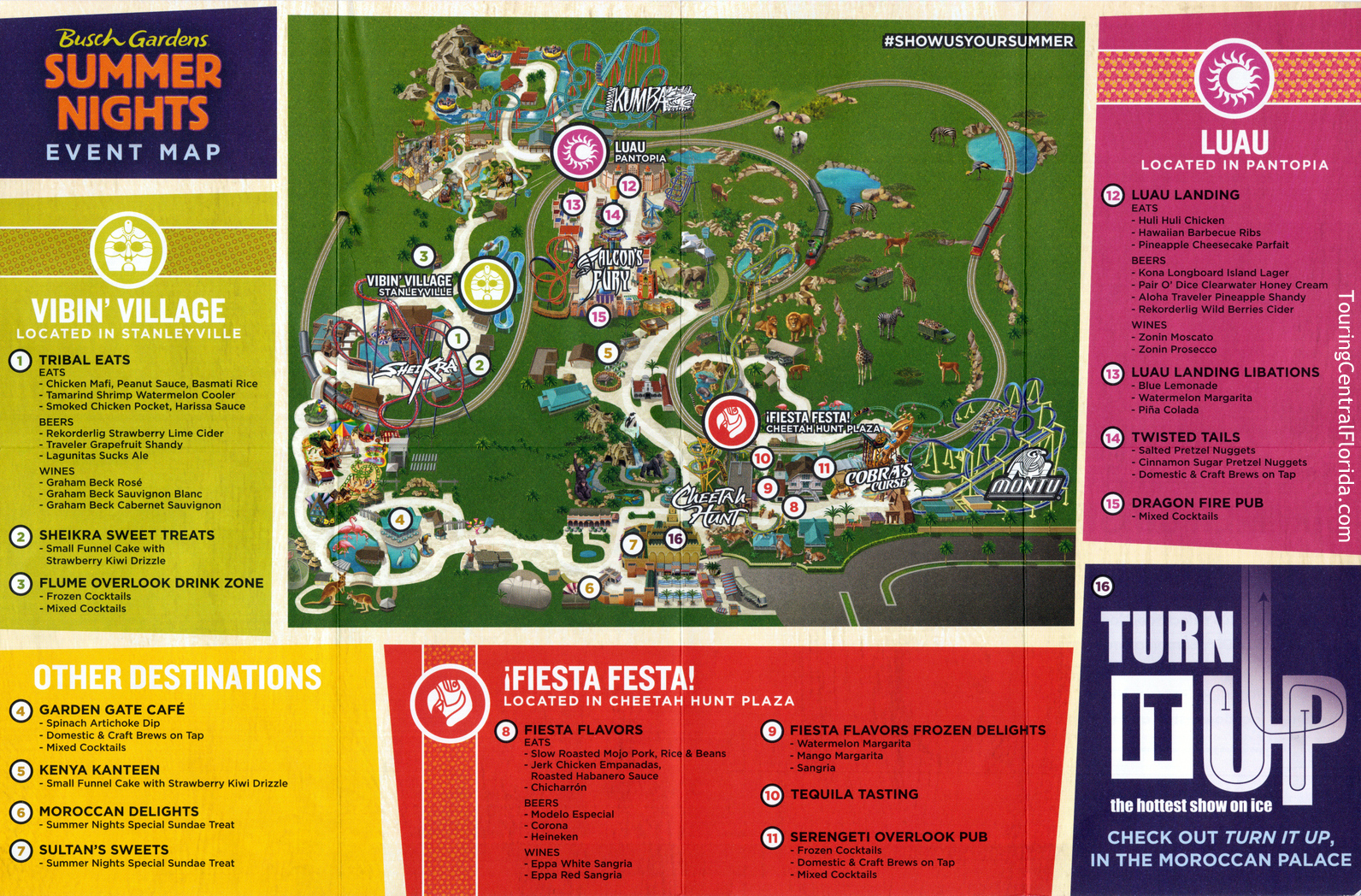 ---
¡Fiesta Festa!
Cheetah Hunt Plaza is home to the ¡Fiesta Festa! Party Zone, which features food & beverage items with a Latin flare. Guests will find a large DJ booth under the trees in the plaza, along with two booths serving special food & drink items, along with a tequila tasting stand. All of the items at both tents as well as select items inside the Serengeti Overlook Pub are eligible with the Sampler Card. Lights overhead dance to the beat of the music, and the DJ and Party Starters, along with some stilt walkers, regularly interact with the crowds.
Fiesta Flavors serves up three special food items, including Mojo Pork, Jerk Chicken Empanadas, and Chicharron. Several beers and wines round out the menu.
At Fiesta Flavors Frozen Delights, guests of age can choose Sangria or a Watermelon or Mango Margarita, each priced at $7.50.
Also in the plaza is a Tequila Tasting, available on Friday and Saturday evenings during Summer Nights. For $19.95, guests of age can sample four different tequilas, and take home one souvenir shot glass as part of the experience.
---
Vibin' Village
In the heart of Stanleyville, Vibin' Village has a tribal theme, with a variety of African inspired dishes to tempt guests' taste buds. Like ¡Fiesta Festa!, Vibin' Village also features a large DJ booth where the emcee along with Party Starters and stilt walkers regularly interact with guests by leading dances.
Tribal Eats is the main booth here, serving up Chicken Mafi, Tamarind Shrimp Watermelon Cooler, Smoked Chicken Pocket, and several beers and wines.
Up the path towards Jungala, the Flume Overlook Drink Zone has frozen and mixed cocktails, which are also available for a punch on the Sampler Card.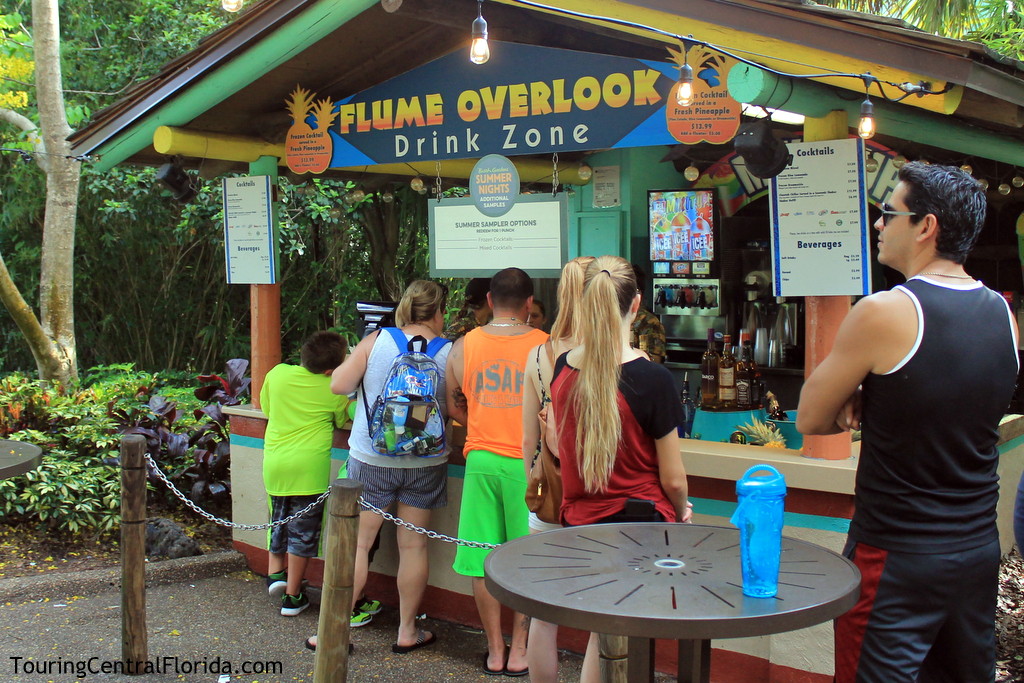 SheiKra Sweet Treats also has a special item for Summer Nights – Funnel Cake with Strawberry Kiwi Drizzle.
---
Luau
The Luau Party Zone is located near Pantopia Theater, and features Hawaiian themed entertainment and culinary options. Unlike the other two party zones, there is no DJ here. Instead, Luau features live entertainment in the form of a duo of drummers and a host with a focus on crowd interaction. When we stopped by, we also saw stilt walkers joining in the fun during a "drum off" in which kids joined the percussionists.
At Luau Landing, guests can try Huli Huli Chicken, Hawaiian Barbecue Ribs, or Pineapple Cheesecake Parfait. Several beers and wines are also available for guests of age.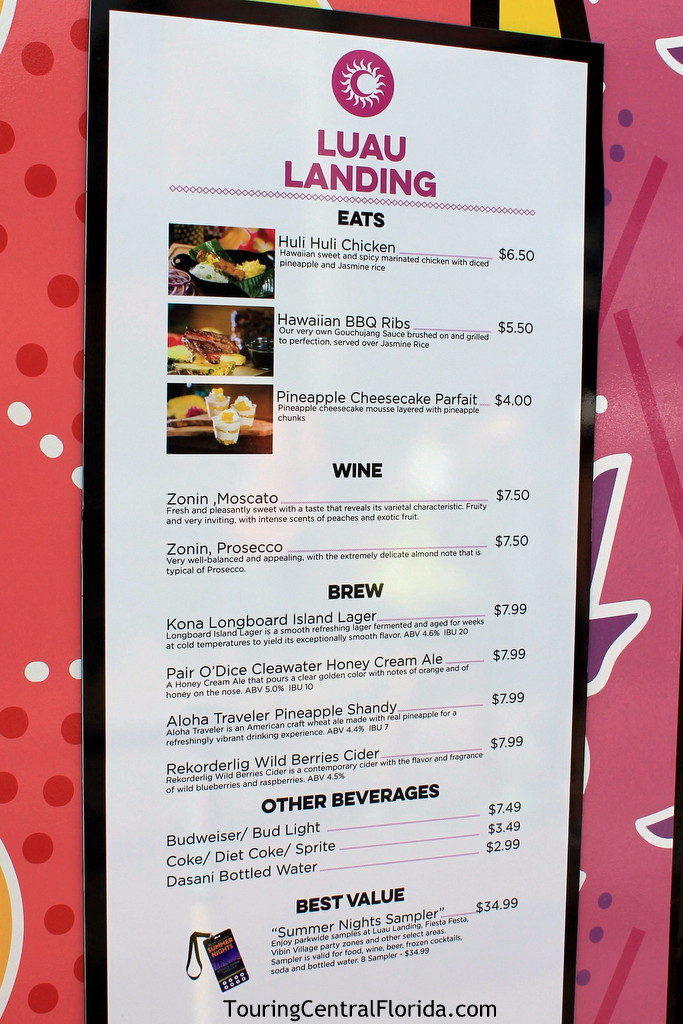 Just across the plaza and jutting out from the permanent Kettle Corn stand, Luau Landing Libations offers several alcoholic creations, including Blue Lemonade, Pina Colada, and Watermelon Margarita. There is also the Fresh Pineapple Delight, which is served in an actual pineapple – this item is not eligible on the Sampler Card.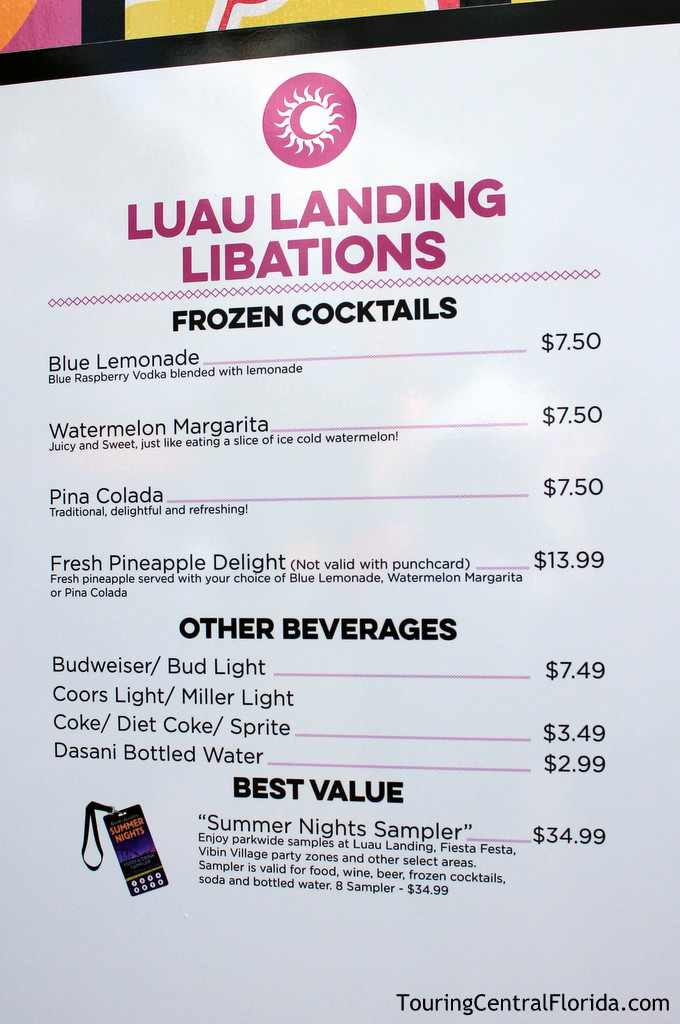 Elsewhere in Pantopia, Sampler Card holders have several options at Twisted Tails, or can grab a mixed cocktail at Dragon Fire Pub.
---
In addition to the designated Party Zones above, guests using a Sampler Card can also find options at Garden Gate Cafe, Kenya Kanteen, Moroccan Delights, or Sultan's Sweets. Eligible items are marked on a special Summer Nights menu board at each location. Also at the Garden Gate Cafe, keep an eye out for a steel drummer or other entertainment on the stage set up outside.
---
Turn It Up!
As part of the Summer Nights event, Busch Gardens Tampa Bay has premiered a brand new ice skating show in Moroccan Palace Theater near the front of the park. This high energy, fast paced show features amazing skating set to modern pop and country songs. With performances in the afternoon and evening daily, it's a great way to cool off from the summer heat.
For more details on the show, check out our recent article.
---
If You Go…
Summer Nights at Busch Gardens Tampa Bay
Through August 6, 2017
Monday – Thursday until 9 p.m.; Friday – Saturday until 11 p.m.
Access to attractions & party zones included with any admission
---
For the latest on Busch Gardens Tampa and other theme parks, attractions, dining venues and more across the region, be sure to follow Touring Central Florida on twitter @TourCentralFL & @androckb, and give our facebook page a like.